Yes, it was quite a hectic year for DD3D, full of new challenges and business opportunities.
In just a year, DD3D has gone through major business changes; from opening up new markets, to attracting new talented people to the company and expanding the team.
But let's start at the beginning; the new year came in with a bang.
We welcomed a new business partner and friend, Mr. Paul Rikter (owner of the Copenhagen Gate, whose primary goal is to connect companies with the Scandinavian market) into the life of DD3D.
With the new role of Global Sales Manager, Rikter brings with him fantastic contributions to strategic development and marketing.
In order to form the new team with a clear vision, we held a three-day conference in Varaždin at the end of January.
Through brainstorming and sharing ideas, we discussed new challenges, assessed potential threats, and considered exciting business opportunities that we could achieve through new projects.
The DD3D mission and vision has been clearly established, leading to the development of both short-term action plans, as well as long-term goals and targets.
Each member of the team has taken its place in the framework of the company, while envisaging steps for personal growth, as well as forming a collective vision of DD3D's future; we believe that in doing this, we have laid the foundations for a successful business year.
We successfully began establishing some of our set goals and plans, transforming them from ideas into realities. Thanks to the hard work and dedication of our team members, we have also been able to demonstrate the quality within the company.
Numerous projects have been agreed – one that deserves particular mention is our work for Silverstream Technology, in which we produced 2 animated videos that explain air lubrication technology. The project was a success, and in search of new business opportunities, we attended one of the largest and most significant maritime business exhibitions in the world- Norshipping, held in Norway.
There we met with the latest trends in the maritime sector; however, we were more than observers.
At the exhibition, we excited visitors by demonstrating cutting edge methods of digital communication; 3D visualization was chief among them, but we also presented new innovations that have even greater promise for the near future – virtual and augmented reality.
The reception to these technologies was overwhelmingly positive, and reinforced our beliefs that we are pursuing a vibrant, meaningful direction with fantastic potential.
We met a number of interesting companies and people, including maritime industry leaders, and made several connections, which we see as a starting point for successful future business cooperation. As spring rolled into summer, we decided to take advantage of the opportunity to relocate our company to somewhere a little warmer. For a short time, we moved our office to the small, picturesque town of Šilo, on the island of Krk.
Great weather and fresh air were the perfect catalysts for an influx of new ideas and new business strategies. We took the opportunity to discuss future developments, sales and marketing directions for DD3D.
Business development has also brought new projects, including long-term efforts worked on throughout the year, as we strive to bring them to fruition. Numerous business meetings were held, and we successfully established several new and exciting partnerships with a variety of businesses that have lead to fascinating new opportunities.
Also, we moved to a new, bigger office and welcomed some exceptionally talented 3D artists into the team.
Before long, we began working on a new project with Herbert Engineering Corp. The U.S. Maritime Administration has embarked on a program to design and build new vessels that will be used to train future U.S. marine officers, and DD3D Studio was the sole producer of a promotional National Security Multi-Mission Vessel 3D presentation.
Now that 2017 is coming to an end, we can say with pride that we leave behind us a great year, full of success and progress.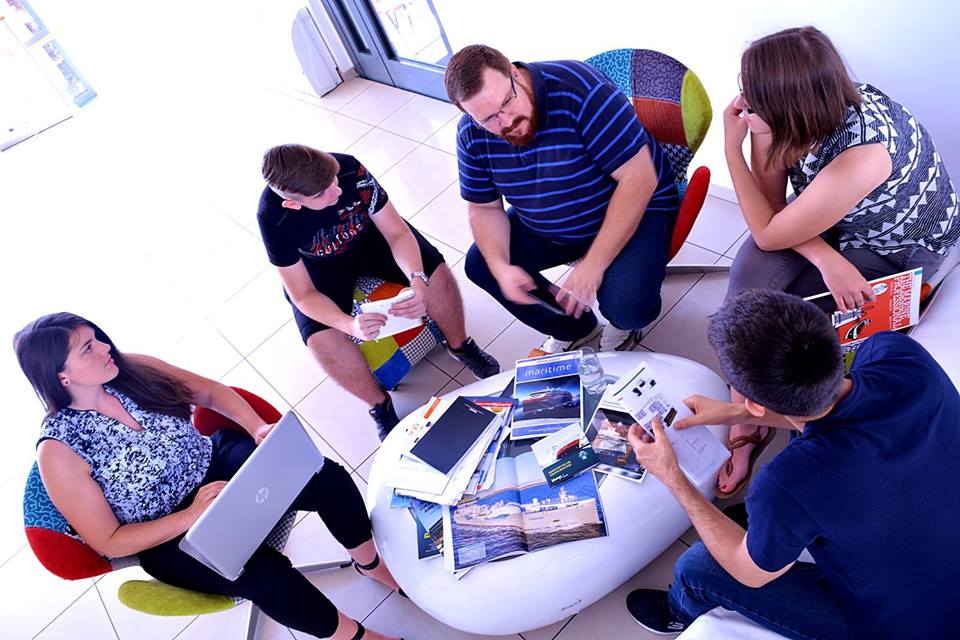 We are exceptionally grateful for the exciting, new business opportunities and projects, as well as the business partners who placed their faith in us.
2017 saw great changes and new friendships, not to mention a fantastic office atmosphere, full of fun, laughter and togetherness.
So for us, 2017 was a wonderful year, and we'd be delighted with the prospect of a similar 2018; however, given our drive and ambition, as well as the exciting new opportunities that lie on the horizon, we are filled with confidence that 2018 will be even greater.